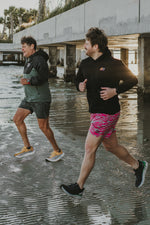 Welcome to the untamed lifestyle! 
What is Droopy Drawers?
Droopy Drawers is a Father/son operation which strives to promote healthy lifestyle while showcasing an untamed sense of style every time you hit the pavement. With the loudest and most vibrant shorts on the market that can be worn in any scenario.
Why Droopy Drawers?
Droopy always strived to wear the wildest apparel on the market. One small problem... he could never find running shorts which did just that. Alas, the idea was birthed… Droopy Drawers. A brand that would showcase top notch quality while being infused with a lifestyle completely untamed. With top of the line technology: 4 way stretch, quick drying, stretch waist band and a soft/buttery under liner we believe that are shorts are designed for all shapes and sizes!
 Who is Droopy?
Droopy, the co- founder of Droopy drawers  is a retired Marine who served the country for 34 years and coined the call sign "Droopy". Vibrant clothes, Ultra runs and a taste for making an untamed statement each and every time he dresses himself. 
 As a father/son operation, our mission is to always provide you with the best customer service, wildest designs and to continue providing a top quality product!
Our hope is these eccentric shorts will motivate you to push yourselves physically and maybe enjoy a beer afterwards!