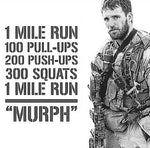 One of the most infamous workouts of all time, the Murph. If you're looking to kickstart your fitness plan, do not start with this bad boy as you'll need about 2 weeks of recovery after. 
This intense workout that turns your thighs into melted Jello consist of the following:
1 Mile Run
100 Pull- Ups
200 Push- Ups
300 Squats
1 Mile Run
Oh and add a 20 LB ruck sack to top it off. 
This hour of puking (or two in my case) may turn you off but this WOD is for a great cause! The Murph Challenge is the official annual fundraiser for LT. Michael P. Murphey Memorial Scholarship Foundation. 
LT. Michael P. Murphey was a United States Navy Seal who gave the ultimate sacrifice. He received the Medal of Honor for his service and sacrifice in Afghanistan. 
Every year, the annual Murph Challenge is held on memorial day, where Men and women all over the world participate in this challenge in honor of Murphey. 
Join the cause!
Registration opens is currently open! Head over to themurphchallenge.com to register! 
Monday May 30th is the official day but make sure you get a training session in before!